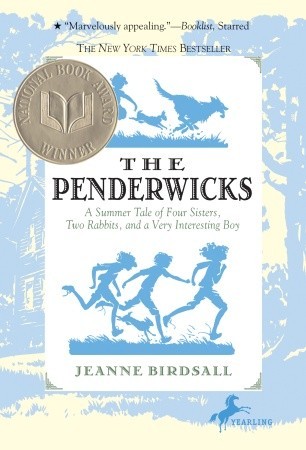 I recently read again the first book in
The Penderwicks
series. I am such a fan of these books. I love the characters. There are four sisters: Rosalind, Skye, Jane and Batty. Their mother died shortly after Batty was born, so they are being raised by their father. They have a large, sweet, yet rowdy dog named Hound. In this first novel, they are spending their summer vacation in a rented cottage on Arundel estate. They become friends with the boy who lives on the estate, Jeffrey, and have many
adventures, both fun
and troublesome. There are three sequels, with a fifth and final one forthcoming.
Which Penderwick Sister Are You?
My result, which is not surprising because of my love of books, is Jane. However, I can see myself in some of the other sisters. I am the oldest child like Rosalind and I like math like Skye.
Two of my favorite review on Goodreads are from my nerdy guy friends:
"
This is a very, very good novel. It's kind of like Little Women for modern readers. I love all of the sisters, but I think Skye was my favorite, Batty was close though towards the end." - Benji Martin, Elementary School Librarian in Montgomery Alabama
"
This book almost made me wish I was a girl, almost. Okay, maybe not at all, but seeing the relationship between the four sisters was so cool." - Colby Sharp, 3rd grade teacher in Parma Michigan
I love their reviews and that they are from guys, because we really want kids not to limit their reading based on what they think is a "girl" book or a "boy" book. Yes, this book focuses on the relationship between the sisters, but there are some amazing male characters, and Jeffrey's story is the center of the plot.
I am including Colby's video from when he was a 4th grade teacher because he speaks to this issue when he addresses Babymouse. I showed this video to my students and I had suddenly had boys checking out Babymouse all the time. #noreadingshame
How great it is to know people that share the love of reading and want kids to love it too!